I've often wondered why some women are handy and others haven't embraced their inner handy girl yet. Karah is definitely one super handy gal! She's in the process of completely renovating a bungalow in Key West. We were talking on the phone one day and discovered that we lived very similar childhoods. Suddenly, there were a lot of "Really?! Me too!" exclamations. We thought it would be fun to quiz each other and see how similar we really are. We're calling this our Separated at Childhood Q&A (complete with the obligatory awkward childhood photos)!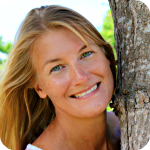 If you haven't met Karah yet, I know you'll be fast friends. Karah blogs at the space between. Both Karah & I love serious DIY. We both grew up in houses that were always at one stage or another of completion, which has probably heightened our ability to deal with all of the house projects we seem to always be tackling. Growing up around sledgehammers, extension ladders and the sound of saws whining first thing in the morning seemed natural to me. To this day, I still love the smell of sawdust first thing in the morning.
But enough about me, let's get to the questions and Karah's answers!
Karah's answers:
Q. Sweet tooth or Salty Snacks?
A. sweet for sure, all day, every day
Q. Coffee or Tea?
A. coffee … black, strong and tall … wait, we're still talking about coffee, right?!?! 😉
Q. What was your first DIY project?
A. I can't say I remember my very first, we were always making stools and desks and tables for around the house. But there was this time my brother and I tried to build a boat out of scraps of plywood. My mom wrote "Aug 82" on the back so I had just turned 6. Spoiler alert – plywood does not a good boat make.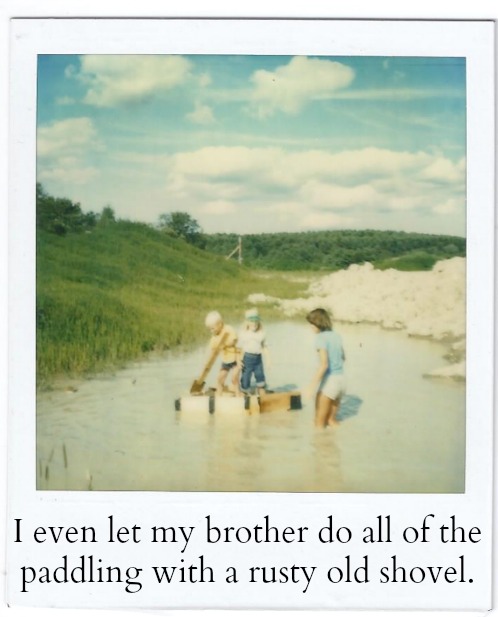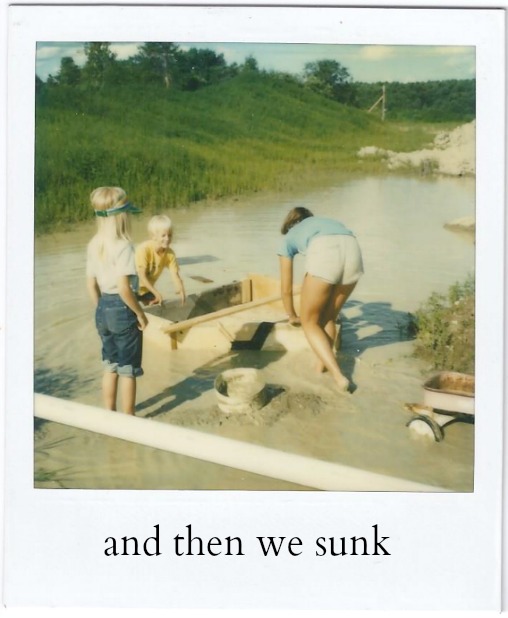 Q. Who encouraged you or where did you get the empowerment to take on your first project?
A. I grew up on a farm, which is a very do it yourself environment from fixing tractors to haying fields. But my dad definitely fostered the house project empowerment by taking me to Bring Your Child to Work days and teaching me how to use a slam hammer when I was in Jr High I think.
Q. Were you a tomboy or a princess as a child?
A. Tomboy is my immediate response. I did anything and everything to try to keep up with my brother who is 2 1/2 years older than me. But, I am the oldest granddaughter on my mother's side of the family and she is one of 4 girls … who all liked to braid my hair, dress me up and do all of those annoying girl things. 😉 There was even a pageant.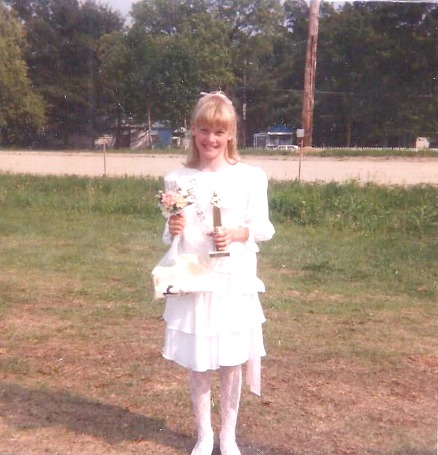 Q. Favorite power tool?
A. Right now it's my framing nail gun, it just makes sh!t happen.
Q. First tool?
A. I wish I remembered. :/
Q. Is there anything you refuse to DIY?
A. No, but there are a few things that I tackled once and don't feel the need to DIY again, like installing all new HVAC ductwork … and I did just decide to hire out the painting of the exterior of our house, not that I refused, but I just really didn't want to do it.
Q. Can you sing and/or dance?
A. After three glasses of wine I can. 😉
Q. Can you cook?
A. Hmmmmm, I plead the 5th. But I try. I really, really try! Sometimes I have better luck than others. But it appears I have been trying for many years.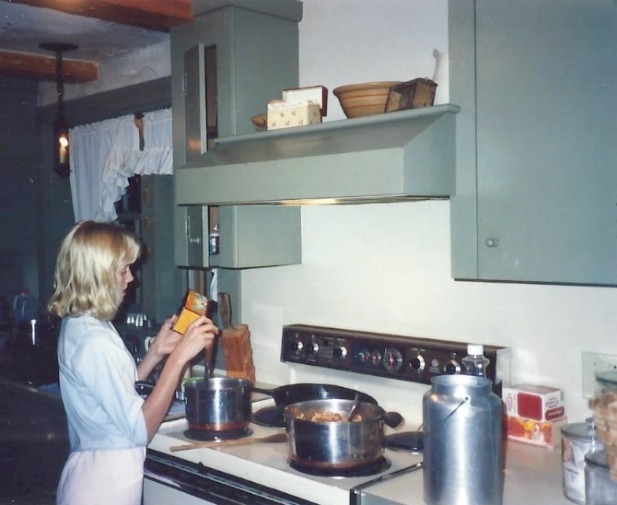 Another fun thing about this photo is the stainless steel gallon milk jug. Yeah, growing up on a farm included getting our milk straight out of the milk tank in the milk room. Fresh, thick and creamy. I'm not a huge milk drinker now. Skim on my cereal and how ever many cups the Hamburger Helper box tells me to add. 🙂
Q. Is your husband thrilled to have a Ms. Fix It or emasculated?
A. Thrilled … and at times overwhelmed I think.
Q. Favorite way to relax?
A. That's a good one, I think it evolves and changes constantly. I love to read, but haven't picked up a book in about 2 years. We live in Key West and I've laid on the beach exactly 1 time in 1 1/2 years. I think just getting out of my normal routine is relaxing whatever it is.
Q. If you could choose one paint color for your whole house what would it be?
A. Right now … white. It's crazy, I have never, ever, ever desired to paint white walls, and now I just can't shake it.
Q. Biggest surprise in a DIY Project.
A. That we really can do anything. It might not end up professional grade, and may take longer than it should but we've never started a project that we just could not complete, even if we had to get advice or help along the way.
Here I am starting young, DIYing some Christmas wrap with a potato stamp at 2 1/2 years old.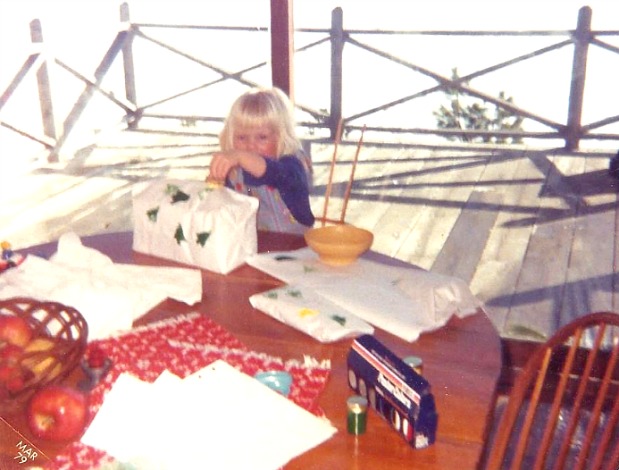 Q. Any regrets in a project?
A. No, I'm not the regretful type. Although there was a spiral perm in 6th grade I could have done without. Luckily my mom didn't send along any pictures of that.
Q. First car?
A. Black Plymouth Reliant that my dad bought for $400 and I pretty much had to add a quart of oil every time I got gas.
Q. First pet?
A. We had a lot of pets … dogs, cats, ducks, goats, rabbits, pigs (caught in a pig scramble), a pony named Queenie and of course the cows … Hannah is a collie we had when I was really little and then we got another collie when we were in middle school maybe. My brother got to pick her from the litter and I got to name her. We picked her up right after the obligatory family vacation to Disney so I chose the name Shandu … a combination of Kandu and Shamu, the killer whales at Sea World. 🙂 This is the day we brought her home.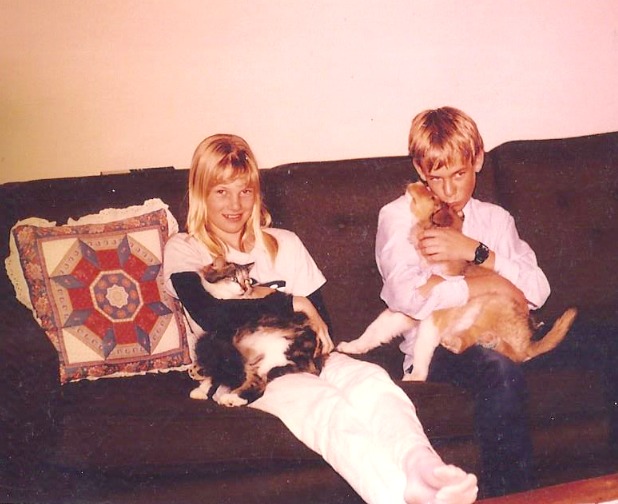 Q. Favorite musician?
A. Dave Matthews Band … my blog is partially named after a DMB song, the space between … it just fit since we move a lot and I always feel like we're trying to make the most of the space between where we've just moved from and made friends and settled and where ever we're going to move next. But I also love Eminem, Kenny Chesney and No Doubt. And my husband and I named our first dog after Bob Marley.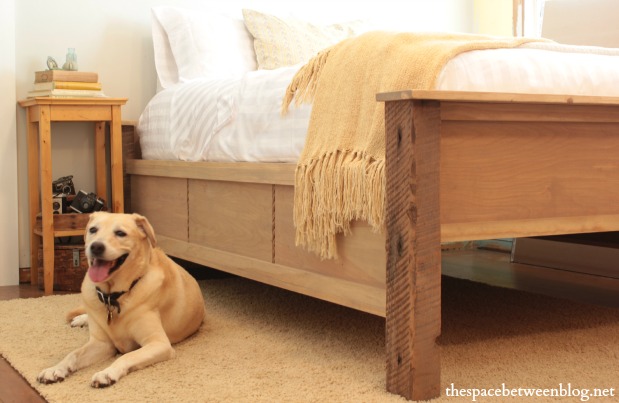 Q. If you had to flee the state and live anywhere, where would you go?
A. Hmmm, I've never thought about this but my immediate thought is Argentina, we traveled there a few years back and loved it, and I'd love to finally become fluent in Spanish.
Q. Are you bi-lingual?
A. I speak more than conversational Spanish, but would really love to be fluent.
Q. Is there something your readers don't know about you? Something that might surprise them?
A. I know there are things you don't know but I don't know what would surprise you, I'm pretty open about things and wrote a post about 31 things you might not know about me back in 2012 that you may not have seen.
Q. Any tattoos or piercings?
A. Yes, both. 🙂
Q. Did you go to college, if so what major?
A. I have a Bachelor of Science in International Hotel and Tourism Management from Johnson and Wales University.
Q. Biggest risk you ever took?
A. I guess it would have to be giving up my career for love. It didn't seem like a risk at all, and 15 years later it still doesn't … but the reaction I get from people when I tell them we moved around together for 10 years before getting married tells me others think this was a risk.
Q. What DIY project are you most proud of?
A. OK, I'm a sap, maybe that's the thing you might not know about me and surprise you, but honestly, I have to say my life. I feel like we've really grasped at every opportunity, not been afraid to take chances and followed our own path no matter how much against the grain it has been. We truly are on a journey to make the most of our every space (literally and metaphorically), one DIY project at a time.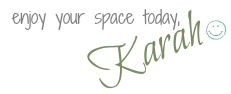 Thanks Karah! It was so fun comparing answers. If you haven't read my answers yet, head over to The Space Between blog to see how similar Karah and really are. And I do have a confession to make, I hope you still love me afterwards.
And as a fun bonus for our readers, Duluth Trading Company (the clothing company that creates clothes as tough as DIY gals) has graciously donated a $100 Gift Card. You can use the money to dress just like Karah and me! Or purchase whatever you like from Duluth Trading Company.
Enter to win by using the Rafflecopter widget below:
Terms & Conditions: Winners will be selected at random using Rafflecopter. Entries must be received by Monday, August 4th, 2014 at 11:59pm EST. Contest open to Continental US residents only. Must be an adult aged 18 and older. Winner will be notified by Wednesday, August 6th 2014 via email. Winner must reply to email within 2 days of receiving the notice. Please be sure you have [email protected] as an acceptable email address.
Prize will be fulfilled by Pretty Handy Girl and mailed via USPS. Pretty Handy Girl cannot be held responsible for prizes that are lost or damaged en route.
Good luck!