I have a friend who is an interior design genius. She would beg to differ, but honestly she is brilliant when it comes to design decisions. This friend, (you know who you are, but if you need a hint…name starts with a "C" and rhymes with "Bear",) was the visionary who created our kitchen floor plan for us. She was also the person who saw a window seat in our bay window. Magnifique! Adding a window seat to the bay window was a great way to free up floor space, add storage to the kitchen, and give us a cozy spot to sit and eat.
After the idea seed had been planted, I immediately scoured the web for window seat inspiration photos and these are some of my favorite (of the MANY more photos I found):
Designer Carrie Miller created a relaxing beadboard window seat via BHG.com
Gorgeous tower breakfast nook. Photo by Karyn R. Millet via House Beautiful
Elegant built-in seat (without a window) via: Lumberjocks (original source unknown)
Refrigerator cabinets used to build a window seat via Centsational Girl
Window seat with storage drawers via BHG.com
Bedroom window seat by Newport Beach Interior Designer Wendi Young Design via Houzz
Curved banquette by Brooklyn architect Ben Herzog via Houzz
White and black built in storage bench via BHG.com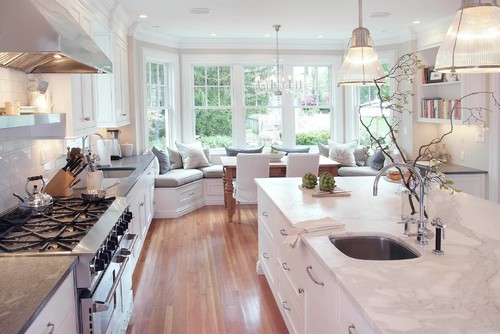 Huge bay window seating by Flemington architect Pickell Architecture via Houzz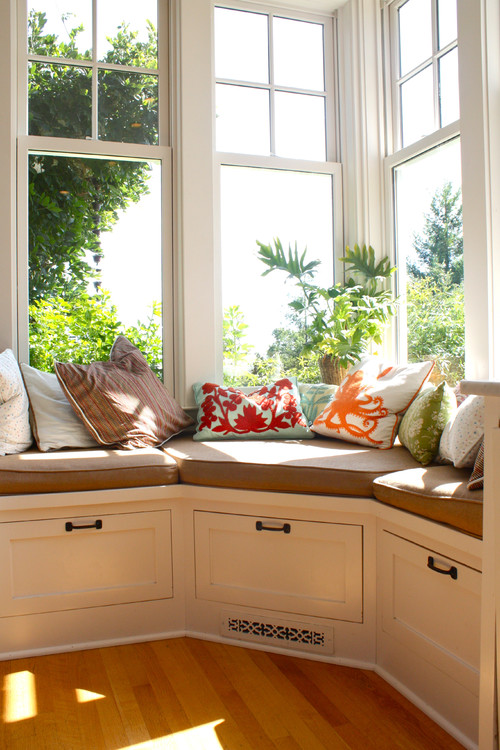 Small corner window seat by Santa Cruz Media and blogs Shannon Malone via Houzz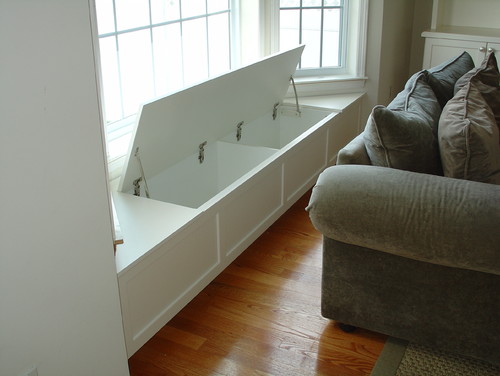 Finally, this was the photo that set my wheels in the right direction for construction via Houzz
Stay tuned because I have a great tutorial in the works to show you how to build a window seat in a bay window.